We facilitated a 4 days retreat at St. Josephs' Girls School from November 25th 2016 to November 27th 2016 under the theme, ''Choose life(Deuteronomy 30:19) This is a girl's secondary school based in Nsambya under the administration of Little Sisters of Nkokonjeru, at least 2000 students were present for the retreat.
Every morning we started with Eucharist celebrations to bless the day and the chaplain of the school, Fr. Paul led the first mass on day 1 and Fr. Leonard Olobo, CSC led the other days.
In the homilies, students were urged to open up their minds during the teachings so that they benefit from the retreat.
Fr. Leonard,CSC during his homily at St. Joseph Girls' School Nsambya.
'' Let us love one another and be alert and helpful to a friend who asks for help so that we all excel together to another level''…added Fr. Leonard.
Below are the talks we taught these students: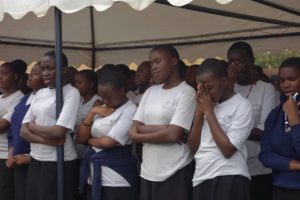 Challenges of adolescents and how to overcome them. Students during a prayer moment

Relationships and power of association.

Self-worth and my value in Christ.

Overcoming inferior complex.

Handling failure.

The power to succeed.

Prayer.

Praying over.

Family.

Healing rejection.

Forgiveness.

Inner healing.

What/Who is Holy Cross Family Ministries

Dreams/Vision.

Jesus is the Lord of my life.

Empowerment.
In the closing remarks, the Head Mistress of the school Sr. Pauline appreciated the work well done by our ministry to her students
''I want to take this opportunity to give thanks to Holy Cross Family Ministries for sparing time to come facilitate to our students under their busy schedule, we are humbled and blessed for the time we have been with you here, please come back next time…said Sr. Pauline.
We are receiving appreciating messages from students on our social media, thanking the team for the great work done during the retreat and this gives us more energy to continue spreading the word of God to families.