Many people today are experiencing family challenges especially in the 3rd world countries. Here in Uganda the families that we have managed to visit every Wednesday in our Home Visit Program have more family challenges that have resulted to family instabilities.
On Wednesday 6th June 2017, we visited Katwe slum a Kampala suburb where we found Hellen Okidi a single mother of 4 children who is struggling to make ends meet for her family. She is living in a very poor standard of living but grateful to God for the gift of life. Hellen shared with us her life experience.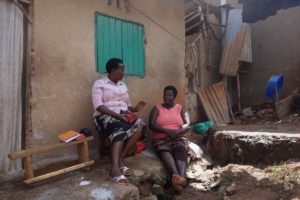 Team member Betty talking to Hellen(pink blouse) at her home in Katwe.
''I do not know where to start. I am full of challenges that I have failed to pray as I used to. Sometimes I even question God why He is keeping me in this suffering?
As I am talking to you now my elder son Okumu Adams is in prison (Luzira men's prison) for assault. He beat up an army man's son who did not rest up to when he imprisoned him. Okumu was first taken to the police station where I paid shs.300,000 which I did not have, I begged my boss for an advance and he was released on bail. Two weeks later he was arrested again and taken to prison. He is expected in court on Tuesday 13th June 2017 for a hearing.
As I was still thinking about that, I found out that my second born daughter Jackie is pregnant with a young boy who is also struggling to earn a living here in our neighborhood. This girl finished her Senior six 2 years back, I have been struggling to see that she goes to the University for further education.
I begged my boss and he accepted to sponsor her do a course in education, now she is pregnant. What am I going to do? I trusted this girl and thought that she would raise me up after studies now see.
Even his brother (in prison) was also sponsored by my boss and was expected to start lessons this week. Do you think God is fair with me?
What annoys me is that I am facing these challenges alone yet I am a married woman but my husband Okidi Richard (Police Officer) is enjoying life with another woman. He left us in a rented house in 2012 where we were chased out because I failed to pay rent. I ended up here in this one roomed house.
My husband has failed to take his responsibility, I am struggling alone. I tried to ask him for money but he told me his salary is chopped every month. I was told that he is constructing a big house for the woman yet we are here and have nothing to eat.
I was advised to take him to authorities so that he can resume his responsibilities as the head of the family. I was surprised to see him on my door this morning at around 6:30am with a ''Kavera''(Polythene bag). He did not say anything, but just put it down and walked away. Hope he won't turn out violent because he seemed annoyed. This is the life I am living in today, please pray for me!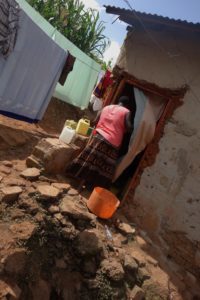 Hellen entering her house.
As Holy Cross Family Ministries, we stand in pray with such families, sympathize and comfort them and encourage them never to give up. In times of challenges give thanks to the Lord for He is still blessing you with the gift of life.
We also urge families to pray, it's through prayer that we fight the devil in our families especially when we pray together as a family.