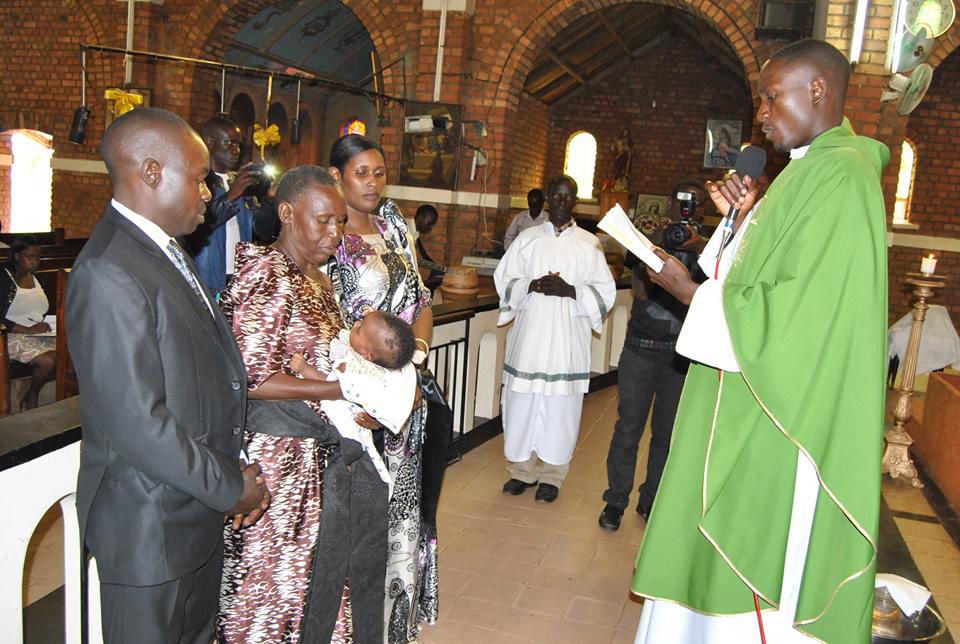 Holy Cross Family Ministries East Africa Kampala region, celebrated a thanks giving mass for our couple Mr. and Mrs. Seguya on Monday at 2pm at St. Peter's Catholic Church Nsambya.
The main celebrant was Fr.Kibombo who thanked our family ministries for caring for people with family issues.
Mrs. Resty Seguya was a protestant who later on converted to a catholic after accepting to marry Seguya and now are having a 2months old baby girl whom they brought for baptism.
He also thanked the couple for bringing their daughter Maria to be baptized and introduced in church.
In his homily, he said that married couples loose hope whenever they have misunderstandings in marriage and this gives Satan a chance to destruct us more and we divert from God.
He urged Christians to have hope and faith in God over the challenges and problems in order to be successful in life.
After a thanks giving Mass, we gathered together as a family to have at least a snack and a soda at the boardroom and also discuss more on our prayer guild. More than 85 people participated.
The couple cut and served the cake, they thanked the family ministries for making the day colorful. They contributed one hundred thousand shillings (100,000/=) to help in the Peyton prayer guild.
The peyton prayer guild leader, Mrs. Florence Akugizibwe introduced her team to people and urged more to join the group every Monday at 3pm for Adoration.
Furthermore, Fr.Chris emphasized marriage and said that, married couples are highly respected in the society.
He urged those that are not married to come out bold and receive the sacrament.
Fr. Chris added that the family Ministries will be supportive to whoever comes out and ready to receive the Holy Matrimony.