We were so over whelmed by the number of people that turned up for Valentine's Celebrations on February 18th 2018.
Valentine's Day Celebrations are always celebrated on February 14th but because it appeared on Ash Wednesday we had to push the day to February 18th in order to respect an important day and as well prepare ourselves for the Lenten Season.
More than 500 people turned up at St.Peter's Nsambya Gardens,Kampala giving a total of 260 couples and 240 people who came without their spouses.
Participants in a moment of prayer.
We also received 3 Muslim couples that joined us for the event.
The function started with a Eucharistic Celebration led by Fr. Emmanuel Ssemambo from St.Charles Lwanga Jinja Karori Parish,Kampala.
In his homily, Fr.Emmanuel urged couples to always have a moment of prayer together and seek for God's intervention in their marriage as well as the family.
He also encouraged the participants to always have time for their marriage and family
''As married couples, spend time together and as parents always be available for your children so that they do not seek for bad advice somewhere….said Fr. Emmanuel.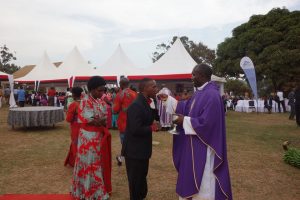 Fr.Emmanuel during the Eucharistic Celebration.
The director Holy Cross Family Ministries East Africa, Fr. Leonard Olobo was proud of the attendance and challenged the married couples to keep their vows sacred.
He promised to find resource persons like in business to assist couples on how they can raise income for their families.
The couples surrendered their marriage to the Lord through prayer, renewed their marital vows and latter were treated to a heavy buffet, entertainment, prizes from Holy Cross Family Ministries and they exchanged gifts to each other.
The function was spear headed by Holy Cross Family Ministries, Kampala and Catholic Charismatic Renewal, come next year we shall have the same function.