For it is with your heart that you believe and are justified, and it is with your mouth that you profess your faith and are saved. Romans 10:10
Norah is an Anglican from St. Janan Church of Uganda in Kisugu but loves the
Catholic Church. She is even having the portrait of the Holy Family in her house.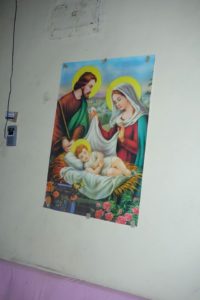 The potrait of the Holy Family in Norah's house,an Anglican.
''I love the Catholic Church and I love all the teachings, this is the reason why I have this portrait in my house. Most of my friends are Catholics and whenever they come to me for any church projects fundraising, I respond positively….said Norah
Norah is paralyzed for more than 2 years after being admitted at a hospital in Kampala (name withheld). ''A nurse was called to remove a cannula from my hand, I think she was not in her moods she just pulled it off from my hand and from that day, I failed to walk that's why I am crawling…said Norah.
We advised her to visit CoRSU hospital, specialists in such abnormalities and her brother whom we found at Norah's home who had come to check on her health said that ever since this illness started he's having a plan of taking her to therapists but has some challenges
''I feel bad to see my sister like this, I will do anything to see her walk again, I have been having this plan of taking her to specialists for check -up but I do not have means of transport favorable for her condition but I will take her to that hospital you have recommended…said Norah's brother.
Before we left her home, we prayed with her these prayers, Our Father ,Hail Mary, and Glory be… for God's Mercy on her health and she was happy for our visit and responded to the prayers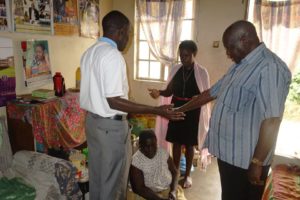 Team member, Ojambo Christopher joined by Norah's brother and a neighbour praying for Norah for God's Mercy on her health.
''Am so grateful for the visits I am receiving from the catholic community, I feel at peace whenever we pray like today, I believe that I will be fine…said Norah.