On Wednesday(March 15th 2017),we visited the home of Mr. and Mrs. Ssebunya,in Kasangati,a Kampala suburb,this is a couple that we formed into a Holy Matrimony and they got married in November last year.
At the beginning of this year, God blessed them with a beautiful baby girl Immaculate Ssebunya 3 months old.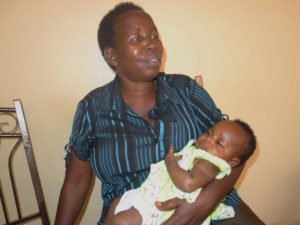 Team member Betty Mukisa with baby Immaculate Ssebunya during the visit.
We made a follow up to find out how they are doing in the new vocation, but we only found the wife at home who was still in her maternity leave. As soon as we arrived at their home, The wife Hellen called the husband Vincent who had gone for work to talk to us.''Thank you dear friends for the visit, i have greatly missed you but i have to work for my family, hope to see you next time…said Vincent on a phone call.
We reminded them of the vows they made,''for better for worse'' and encouraged them to make God their first priority in their marriage.
As parents we took them through the parental challenges but urged them to take their responsibilities as parents.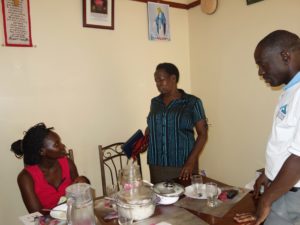 Ojambo and Betty talking to Mrs. Sebunya Hellen at her home in Kasangati.
We prayed for God's guidance in their marriage and family and encouraged them to pray together as a family because ''A Family That Prays Together Stays Together''.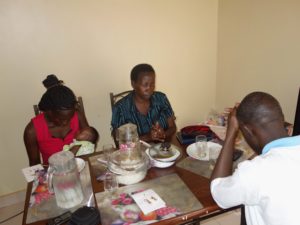 Ojambo Christopher and Betty Mukisa praying for the family of Mr. and Mrs. Ssebunya,Hellen (Red Blouse).
''Thank you so much for the visit, you have been journeying with us up to now,I am so humbled and God bless you all...noted Hellen.