On 8th April 2017 we joined our team in Fort Portal for Try Prayer! It works! Contest at Virka Cathedral. It was under the theme ''A woman clothed with a sun ''Revelations 12:1
At least 30 schools turned up for the function and more than 2000 students.
Students during a band matching around Fortportal town.
The function started with a Eucharist Celebration led by the Bishop of Fort portal Diocese Rt. Muhirwa Akiiki and in his homily, he encouraged the students to pray
''Ask and receive, knock and the door will be opened. These are important words that Jesus is showing us. It's by faith to God and follow of what's expected of us and receive his blessings….said the Bishop.
He also urged them to work hard in the studies and be-friend the weak subjects so that they can balance their combinations and excel
''Quitters never win and winners never quiet read hard''….added the Bishop
The director Holy Cross Family Ministries East Africa, Fr. Leonard Olobo, CSC called upon the students and their teachers to take this activity serious because it's one way of evangelization.
''Please do not answer the question for the sake of answering, we want you to understand the theme very well and also apply it in your daily life…said Fr. Leonard.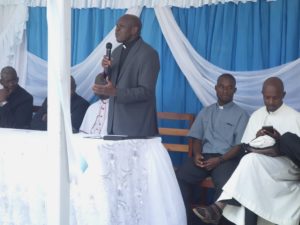 Fr. Leonard making his remarks at the function at the Cathedral Gardens.
He promised a workshop for the patrons and liturgy teachers on how to help students answer, interpret and understand the theme given. He added that the marking committee realized that students are not guided on how to answer the topic given.
The Director Holy Cross Family Ministries Fort portal region, Fr. Oswald Nkyanungi thanked the students for participating in the activity and honoring the invitation. He talked about the background of Try Prayer! It works! Contest.
The best students were awarded and the guest of honor was the Bishop of Fort portal Diocese Rt. Bishop Akiiki Muhirwa who praised the works of Holy Cross Family Ministries in his Diocese
Bishop Muhiirwa awarding certificates to some of the best students for Try Prayer!Contest! 2017.
''We thank Holy Cross Family Ministries for the great work you are doing in this Diocese. You really help us a lot in pastoral work, we are grateful. I commit myself that I will support you in all your activities….said the Bishop.
The following were the best overall winners in these 3 categories
Basemera Violet -Essay 84%(Rubona Secondary School)
Musana Ricky-Fine Art 68%(Nyakasura School)
Ahabyona Tegodet -Poem 30%(Kitumba Secondary School)
Each received Ug shs 100,000 and Ugshs50, 000 for the patron.
The day was crowned with entertainment, from different schools and it was joy all over the area.