On 11th March 2017, Holy Cross Family Ministries facilitated the Inter-Secondary Prayer Day at Amka Classic School in Mbuya, Kampala.
This is a prayer Day organized by Kampala Youth Charismatic Ministry and it's organized every term to promote the spiritual well-being of the students as well as promoting their talents through entertainment. It started four years ago where Catholic schools around Kampala and its' suburbs come together for a day of prayer.
More than 160 students from different schools participated.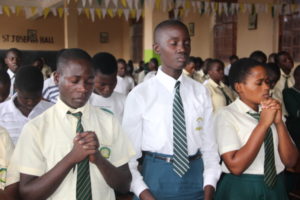 Humbled students during a prayer moment.
The theme of the day was ''Fear the Lord and you shall live'' Deuteronomy 6:2
The students were taught about the theme of the day, how it's important for them to fear the Lord in order to live. They were also put into a prayer moment for God's Mercy on them. Being in the Lenten season, this is the right moment to reconcile with the Lord.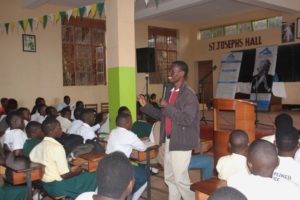 Charles Ojinga talking about the theme of the day.
Counselling and confessions were also among the activities, students shared the challenges they are facing and ideas were shared to overcome them.
The day was crowned with the Eucharist celebration led by Fr. Bruno Sserunkuma who in his homily urged students to love God.
''The way we can express our love towards God is by respecting and following his commandments. For someone you love, you do not make them feel pain. If we love God we must make Him feel happy.
Is the love of God truly the way we live?……asked Fr. Bruno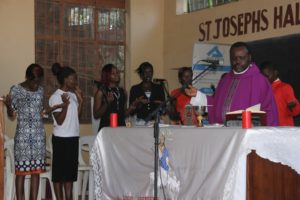 Fr. Bruno during the Eucharist celebration at the school main hall.
Schools presented skits, sang songs and others with creative dance and drama.
Students received 200 Rosaries from Holy Cross Family Ministries and were encouraged to pray them every day.
The next term's Inter-Secondary Prayer Day is to be at Our Lady of Good Counsel Gayaza and the date is yet to be communicated.