Rosary

The Basics:
The Rosary is prayed using a string of beads called Rosary Beads. Starting at the crucifix, each bead is held in your fingers and a standard prayer is said, such as Apostles Creed, Our Father, Hail Mary, Glory Be to the Father and the Hail Holy Queen.
To pray, you follow the beads counter-clockwise around the string, praying on each bead, to eventually return to the crucifix. (try our Interactive Rosary to see this in action)

The beads are divided into five decades (or sections); each decade represents an event from the life of Christ. These five events are grouped into a "mystery, that is a "truth from the life of Christ.

There are four of these "mysteries of five events each each focused on important part of the life of Christ. When praying the Rosary, each day of the week is assigned a mystery to pray for that day.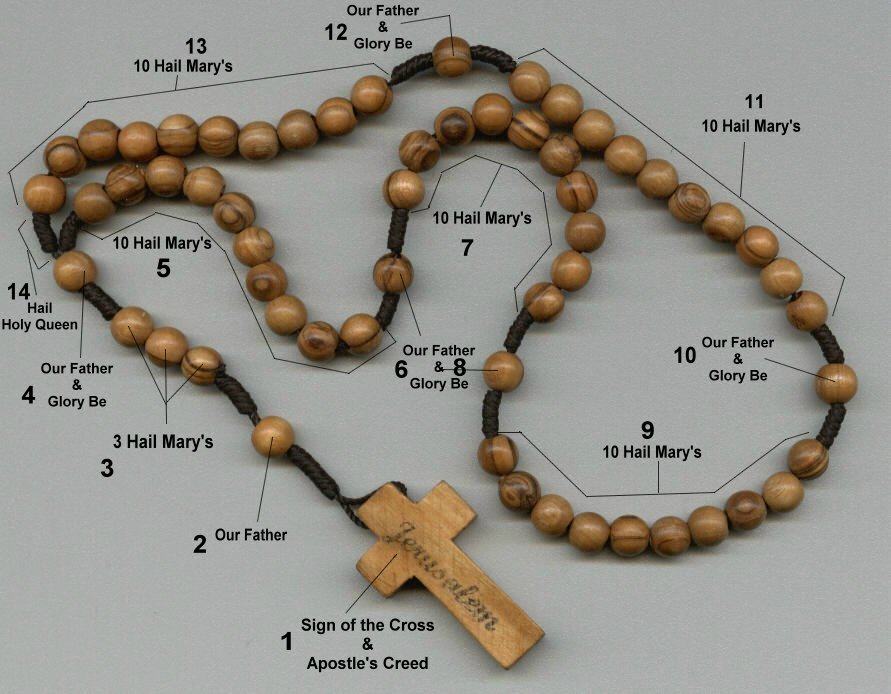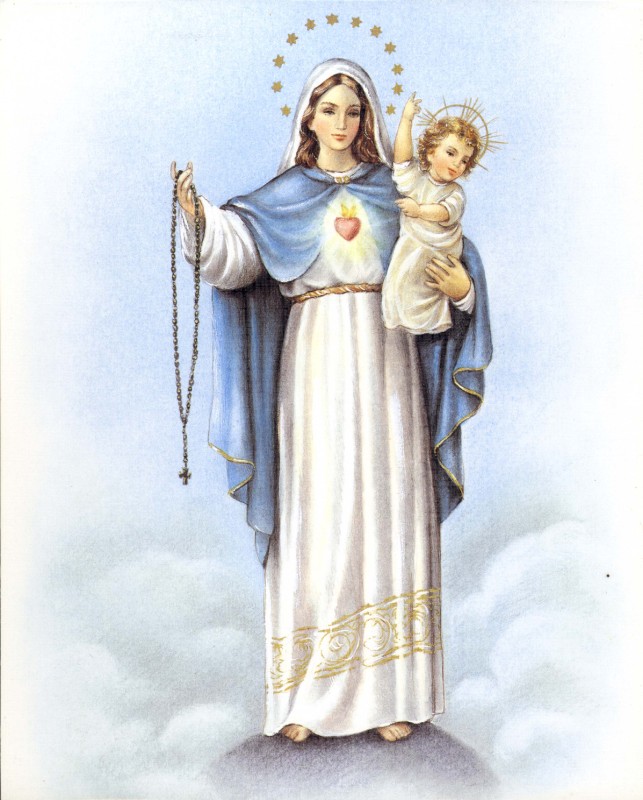 MOTHER MARY PRAY FOR US.
The Five Joyful Mysteries are traditionally prayed on the Mondays, Saturdays, and Sundays of Advent:
The Annunciation
The Visitation
The Nativity
The Presentation in the Temple
The Finding in the Temple
The Five Sorrowful Mysteries are traditionally prayed on the Tuesday, Friday, and Sundays of Lent:
The Agony in the Garden
The Scourging at the Pillar
The Crowning with Thorns
The Carrying of the Cross
The Crucifixion and Death
The Five Glorious Mysteries are traditionally prayed on the Wednesday and Sundays outside of Lent and Advent:
The Resurrection
The Ascension
The Descent of the Holy Spirit
The Assumption
The Coronation of Mary
The Five Luminous Mysteries are traditionally prayed on Thursdays:
The Baptism of Christ in the Jordan
The Wedding Feast at Cana
Jesus' Proclamation of the Coming of the Kingdom of God
The Transfiguration
The Institution of the Eucharist